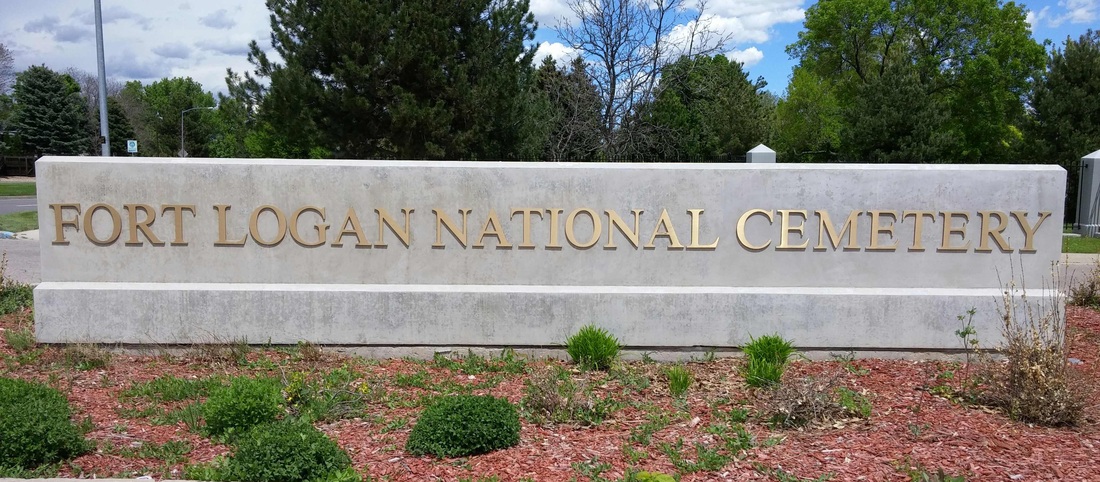 Honors Burial Project

Our Chapter has taken on the task of providing a proper military burial of thousands of unclaimed deceased veterans at Fort Logan National Cemetery. The cremains of these veterans have been held in cardboard boxes at mortuaries in the Denver metro area for many decades as far back as WWI.

________________________________________________________________________
HONORS BURIAL PROJECT 2018
________________________________________________________________________
Crown Hill Cemetery Logging Cremains March 24, 2018
​For Honors Burial Project
Fantastic turnout from our chapter. We logged close to 400 sets of cremains in less than 3 hrs. Great teamwork by a great group. Thanks to all who participated.
Jim Topkoff
________________________________________________________________________
Our Honors Burial program is progressing and Jim Topkoff with a team of members will be logging information on laptops of cremains at Crown Hill Cemetery on March 24, 2018 at 8:30 AM.
​ Contact Jim if you want to help with this step of the process jtopkoff@comcast.net
________________________________________________________________________
HONORS BURIAL PROJECT 2017
________________________________________________________________________
Email from Debra Bishop (Great-Grand Niece to Dr. William Niedermeyer) who is no longer forgotten.
________________________________________________________________________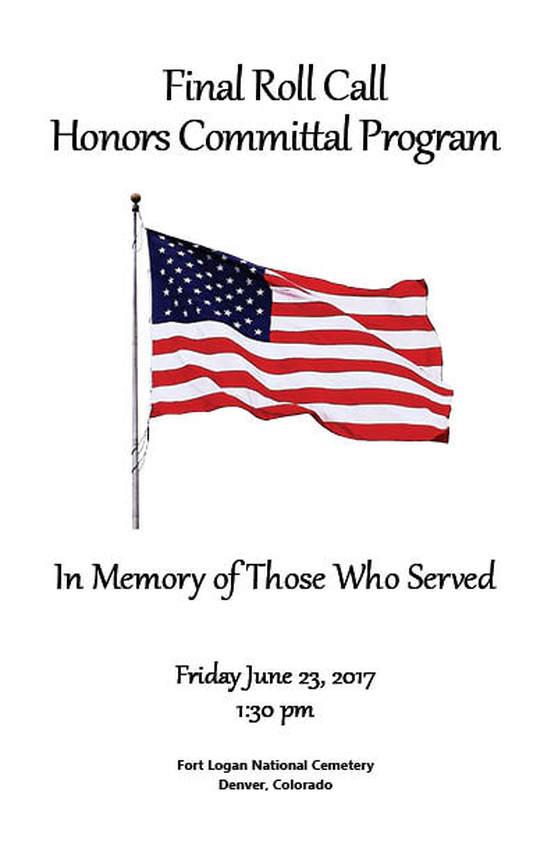 Please take a listen to the interview from Sundays KEZW Veterans show. At point 23min into the show you will hear Jim Topkoff from Vietnam Veterans of America Chapter 1071 speak about our upcoming third interment of unclaimed and abandoned Veteran remains
________________________________________________________________________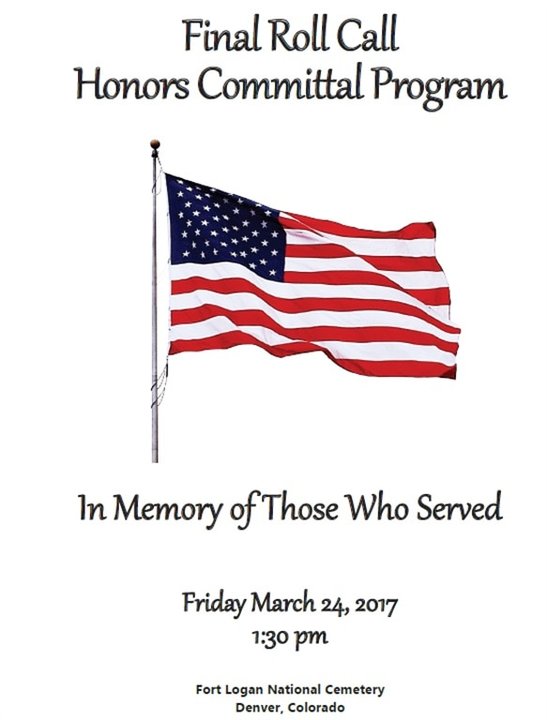 ________________________________________________________________________
March 15, 2017

Our next Honors Burial for 19 Veterans unclaimed cremains will be on March 24, 2017 near Shelter "A" 1:30 PM. The subsequent Honors Burial will be on June 23, 2017.
​
________________________________________________________________________
February 3, 2017

Our next Honors Burial for 22 Veterans cremains is planned for March 24, 2017 at Shelter "A" 1:30 PM. The next Honors Burial will be on June 23, 2017 at Shelter "A" 1:30 PM. This, of course, is subject to change based upon information available with records at Eastlawn Cemetery and Ft. Logan National Cemetery. Final confirmation pending.
​
Thank you
Jim Topkoff
________________________________________________________________________
January 20, 2017

A committee from Vietnam Veteran's of American Chapter 1071 met today with Mr. Jerry Jankanish of Dignity Memorial Cemetery at Eastlawn in order to begin planning for our next interrment of unclaimed veterans whose cremated remains are located at Eastlawn.
We would like to consider another ceremony at Ft. Logan National Cemetery during the month of March and then again in May or June. We currently have 43 sets of approved cremains and would like to break them into 2 ceremonies. We are requesting a meeting with Mr. Turnbach from Fort Logan in the next few weeks so we can discuss and plan the March ceremony.

Thank you
Jim Topkoff
________________________________________________________________________
HONORS BURIAL PROJECT 2016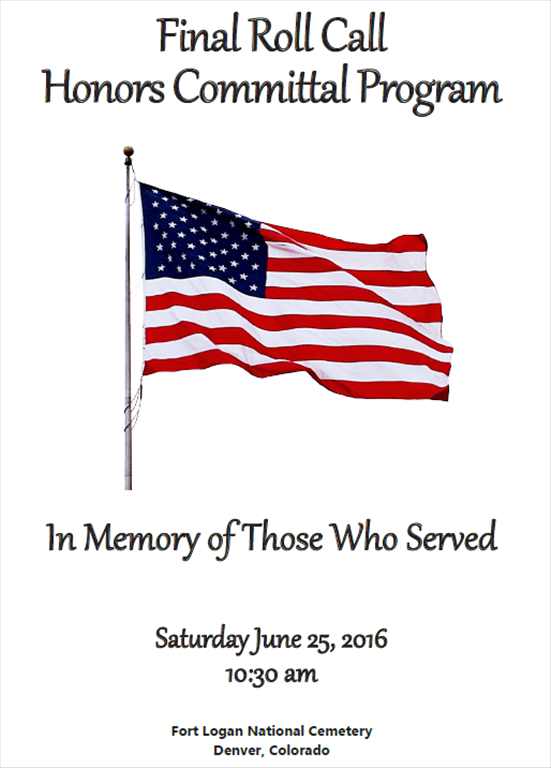 ________________________________________________________________________
Aug 08, 2016
​
As of August 8, 2016,the Honors Burial program has identified over 40 additional remains that are entitled military internment at Fort Logan National Cemetery. You will be informed when the next event is scheduled.
________________________________________________________________________
June 27, 2016
​
We had a beautiful and moving ceremony Saturday, and accomplished our mission for the first of our found brothers. They are now resting in the quiet dignity that they deserve at Fort Logan National Cemetery. The support and efforts of so many wonderful folks that came together to make this happen is truly appreciated. I regret and apologize that my sound system was not up to the rigorous standards demanded by the presence of so much professional electronics at the ceremony.
It is more than unfortunate that the public relations for this event was hijacked by Missing in America Project. Unknown to us, MIAP released their own press release about this event, their message getting saturated coverage nation-wide. Most of the Associated Press articles mentioned only MIAP with not a hint of mention that the Vietnam Veterans of America were even involved, let alone all the dedicated and patriotic supporters who have donated so much loving and caring time and effort to get this done.
It is a sad statement that all the local media who received our press release fully two weeks prior to the event, except for 9News, printed or broadcast glowing credit to MIAP for our event. If you look at MIAP, you'll see their patriotic veneer is a thin cover for their money raising efforts. They know, certainly since their founding in 2007, that Americans are generous and patriotic. And that events like this generate spontaneous donations. This I submit is the ugly motive behind MIAP's grab for glory, and it's called Theft by Deception.
We have already received a spontaneous donation by a supporter who was not so deceived, but I expect nationwide, many small financial contributions have been made to MIAP's coffers. This deceitful hijacking for monetary gain will result in changes to our future fulfillment of our mission. These changes will be determined by the board of directors at an early date.
Our heartfelt thanks goes out to all who attended and all who participated in Saturday's memorable ceremony, but most certainly to those selfless individuals who have labored to make this happen. God bless you all.

Bill Hilliard

________________________________________________________________________
June 18, 2016
Our first committal ceremony is set for next Saturday, June 25th at 10:30 am. Long range weather is forecasting 0% chance of precipitation from 9 am to 5 pm, with the temperature in the high 80's during the ceremony. Bring sunglasses and water.
We will be committing 30 veterans that day at Fort Logan. There is a practical limit of three tables in the columbarium plaza with ten urns per table. As a result we dialed back from our allowed 50 count, which we have far more approvals for than that anyway. In addition to the 30 we will inter next Saturday, 41 more are approved currently approved.
Since we began submissions in February:
Total names submitted: 108
Total approved for committal: 71
Total barred from burial: 3
Total denied burial: 19
Total found, already approved: 4
Total pending decision: 10
Total Incomplete: 1
Of the 71 approved veterans, the war period served:
WW I – 4
WW II – 43
WW II + Korea – 5
Korea – 7
Korea + Vietnam – 2
Vietnam – 4
Peacetime – 6
Of the 71 approved veterans, Service Branches represented:
Air Force – 5
Army – 43
Navy – 18
Marines – 3
USAAF + USAF – 1
Unknown - 1
We currently have 30 urns ready for use next Saturday:
Air Force – 1
Army – 17
Navy – 10
Marines – 2
Our guest speaker will be Maj. Gen. Michael Edwards, the Colorado Adjutant General. A flyover is not yet approved, but Gen. Edwards' staff is now involved and we expect an answer soon. The Air Force has committed to providing the rifle squad and Mark Stallins will play taps.
The press release was widely distributed last Saturday; all members should have received a copy. Please feel free to further distribute as needed. The program handout has been finalized and sent to the printers, it may be ready today (Ray?). The sound system has been tested and will be ready on Saturday.
Fort Logan will position one Porta-Potty on the Shelter A looped parking area. We expect a substantial turnout, which will make parking challenging with street-side parking being the only solution available near the columbarium. Because of this, we will be encouraging drivers to drop off passengers at the columbarium and move their vehicles to the vicinity of any of the three shelter areas or the visitor's center. Mullen High School has most generously offered their 14 passenger van to run a circular shuttle that will pick up drivers from these distant locations to bring them back to the ceremony. We will need one volunteer to drive this van, and he must be available to get keys and instructions a day or two ahead of time. We will need two volunteers to act as greeters at the two Sheridan Blvd. gates, so they can alert arriving drivers.
We will need two or three ushers to hand out programs to arriving guests, and possibly assist handicapped people to their seats. The Patriot Guard will be positioned along the short walkway from the street, and elsewhere as their numbers allow. They will participate in the roll call by dipping their respective branch flag as the veteran's branch is called out. The Colorado Joint Color Guard will provide the presentation of colors as well as bearing the four representative urns from the hearse and again at the placing of urns. They will further assist by identifying and responding "present" as the various names are called. Al Roettger will do the calling and report back to Stan Paprocki who will act as Master of Ceremonies. Chaplain John Altfeltis will solemnize the service.
Lloyd will set a date this week for transfer of cremains to our urns. We will need four or five volunteers to assist out at Eastlawn Cemetery. It should be straight forward and only take an hour or two. He will retain the urns until the day of the ceremony, when he will transport them to Ft. Logan, arriving at 9:00 am, so we can set them up on the tables well ahead of the ceremony and allow Ft. Logan staff to do their paperwork.
It's all coming together very nicely, and with the weather cooperating we should expect a memorable committal ceremony.
Bill Hilliard
________________________________________________________________________
June 4, 2016
We currently have 59 approvals for burial at Fort Logan.
WW I – 3
WW II – 36
WW II + Korea – 4
Korea – 6
Korea + Vietnam – 2
Vietnam – 3
Peacetime – 5
Service Branches represented:
Air Force – 4
Army – 34
Navy – 18
Marines – 2
USAAF + USAF – 1
We currently have 17 urns completed and in our possession:
Air Force – 3
Army – 9
Navy – 3
Marines – 2
There is cap of 30 for the first ceremony on 06/25/2016.
Laura is currently in production for the remainder of urns. We received a large donation of lumber earmarked solely for urn production from Terry Iserman of Memphis, MO. The Woodworker's Guild is in possession of 221 bd ft of 4/4 Hard Maple/Spault, and 368 bd ft of 4/4 Cherry. A donation receipt was generated for Mr. Iserman.
Dog Tags are made as soon as an approval is received, and are up to date.
Service program is largely complete and waiting for a few final details before release. Ft. Logan will not allow our chapter name on the front page of the program. The program was totally reworked and looks awesome! Thanks Renee.
The press release is largely finished, also waiting for a few final details. It is currently in review at Olinger's and Ft. Logan. It will be published extensively next Saturday, 6/11.
Lloyd requested three minutes talk time during the ceremony, but was vetoed by Ft. Logan. They have never had a funeral where the funeral home spoke.
There are three bronze star recipients, one of which was also awarded a purple heart. I ordered six of each ribbons and single and double mounts.
We will have a setup and sound test at Columbarium 1 next Tuesday at 1:00pm – after conclusion of services at Shelter 1. Stan and I did a preliminary audio test last Wednesday, and all components worked as designed. Stan and the guest speaker will be mike'd, all other speakers will be unamplified. Kate Smith will sing the National Anthem. Many small details remain to be settled.
We do not yet have commitments on guest speaker or over-flight(s).
Lloyd will set a date to retrieve and transfer cremains. We'll ask for four or five volunteers to help. There will be some custody transfer paperwork to be prepared. Lloyd also offers his laminating services for the certificates.
Parking is going to be a problem at Ft. Logan if we draw the crowds anticipated. We should organize a shuttle service by some of our members so folks who park at a distance from the Columbarium can get a ride to and from the service. We'll discuss the possibility of using the cemetery golf carts next Tuesday.
________________________________________________________________________
April 30, 2016 Update:
​
We now have 13 verified and approved names for burial. There are 78 more names that are either submitted or waiting for submission, whose death certificates indicate service in the armed forces. We can only submit 10 names at a time to the National Cemetery Administration. Work is in progress to fix a date for interment at Fort Logan National Cemetery, and many more verified veterans are expected to join this initial group of 13.

We are indebted to two agencies for this progress: first, the Colorado Office of Vital Records for their tireless efforts in providing complete death certificate information, without which it would be impossible to positively identify remains based solely on the cremation certificate data. Secondly, the VA National Cemetery Scheduling Office in St. Louis that provides the research that qualifies a veteran for burial in a national cemetery. Eligibility requires an honorable discharge and active duty for a certain period of time, as well as not having certain high level felony convictions. This research is detailed and very time consuming. They provide this service to every applicant for burial in the national cemetery system in the entire country, and their small group of 17 analysts have just had two additional programs thrown at them, the pre-need certification and a dependent qualification task. So our lists of many hundreds of names is quite a burden for them, and the fact that they are producing as many results for us as they are, speaks highly of their dedication and respect of all veterans. We are deeply in their debt.

Our 13 qualified vets consist of 9 Army, 2 Air Force, 1 Navy and 1 Marine. Two served in WW I, 7 in WW II and 4 in Korea. One served during peacetime. The Navy vet served in both WW II and Korea, and retired after 20 years. One became a doctor after leaving the service.
​
We were considering inviting the 4th ID at Ft. Carson to participate in the interment ceremonies because of the predominating presence of the Army in our results, but they are required to charge all travel expenses for participation in any public event (DD Form 2536), so we will instead focus our meager resources on the necessary expenses of finding, qualifying and interring our forgotten brothers-in-arms.
________________________________________________________________________
Honors Burial Update 4/16/16

Our friend Kirk Bol came through for us today, and delivered a list of 687 names out of the 829 we gave him. Each of these names has been linked to a death certificate, and 90 of them indicate service in the Armed Forces. I have begun submission to VA National Cemeteries, 10 at a time, starting with the known vets. Kirk's addition of death certificate information is an invaluable contribution to our quest.

This is just a first pass on the Vital Records database; the older records are more challenging. The earliest deaths in the group are the hardest to match, and will require more effort which Kirk promises to do for us.

Our work continues ….

Bill Hilliard
________________________________________________________________________
Honors Burial Update 3/11/16

3/10/16: Called Dan Catron, Supervisor, VA National Cemeteries to see if we made any progress. He did not receive previous email of 2/26, it was resent and he has it and will review it with his supervisor today. He advises that currently he has no option but to open individual cases on every name submitted, but would not mind some legislative involvement to streamline the process.
3/11/16: Called Andrew Dunkley (Sen. Gardner) asking for help to streamline procedures at VA Nat'l Cemeteries. Forwarded email sent to Dan Catron.
3/11/16: Called Renee Bear – she advises Interim Registrar Kirk Bol has been working on the issue.
________________________________________________________________________
Honors Burial Update 2/20/16

2/6/16 Submitted ten names to VA National Cemeteries for veteran burial qualification.

2/15/16 Checked in with VA, none of the ten cases were assigned due to heavy work volume, all seem to be sufficient to conduct their investigation.

2/16/16 Contacted Renee Bear, Field Liaison of Office of the State Registrar of Vital Statistics, regarding searching Colorado State records for death certification information. Ms. Bear sent a pdf file with the controlling statutes for her office – basically saying the records were confidential and would be difficult to release information to us.

2/16/16 Responded to Ms. Bear, citing C.R.S. 15-19-106 (2015) (4)(b)(II):
(II) Any member or veteran of the armed forces of the United States or of an organization supporting members or veterans of the armed forces of the United States shall have the right to access the human remains and records thereof in order to identify the remains if no person with the right of final disposition has provided for final disposition for at least one hundred eighty days after death. If the remains are those of a veteran of the armed forces of the United States, the person who possesses the remains shall make arrangements for the remains to be transferred to the closest United States military cemetery. This subparagraph (II) shall not be construed to authorize the exhumation of dead human bodies nor the possession of dead human bodies by any person seeking to identify the identity of the remains.
This statute was passed by the 2009 Legislature, and made effective in 2010. Even though it directly affects her office's function, it was not included in their 2015 list of statutes. This statute is currently in review by the State Registrar to see whether we can access this information. It is essential that we glean the correct full names, dates of birth and death and social security numbers, so our submissions to VA National Cemeteries accurately identify a single individual. No determination as of 2/20/16.

2/19/16 Lloyd Swint of Olinger's advises he is compiling some old records and may request some help in combing through them.

_______________________________________________________________________
Honors Burial Project 01/16/2016

No progress to report on getting social security numbers in order to submit names to VA Nat'l Cemeteries.

Discuss whether to expand to other mortuaries. NOTE: Motion was made and seconded to contact other mortuaries regarding deceased veteran's remains. Members voted and passed by majority.

Don Bell returns from vacation Tuesday. Ongoing discussions to support Denver ME's office with veteran identification.

Upcoming meeting with Denver Woodworkers Club on Tuesday. Jim Topkoff has engraved samples for urns. Leonard Smith has identified an engraved nameplate source.

NOTE: Jim Topkoff will look into a members request about purchasing an urn for himself when he attends the Woodworkers meeting on Tuesday.

Bill Hilliard

________________________________________________________________________
Honors Burial Project 12/19/2015



I met with Lloyd Swint at Olingers Hampden offices December 7th where we reviewed the names and information we recorded at Eastlawn Cemetery on Halloween. We ran several names through his corporate database, HMIS, trying to find social security numbers. We had no useable returns, so Lloyd will try several other avenues that might uncover that data.

We had good data on 57 bodies currently in custody of the Denver Medical Examiner, most of which had SSN information. We submitted the first 10 names to VA National Cemeteries on December 3rd, only to be rejected because the VA wanted the ME to submit through normal channels.


Bill Hilliard


________________________________________________________________________
Honors Burial Project 12/03/2015

We have hit a bump in the road on the way to getting unclaimed veterans their due honors at burial. I had just received a list of some 57 bodies currently in the Denver Medical Examiner's Office (Denver has a M.E. – not a coroner like all the rest of the counties). After considerable effort to automate the transfer of data from the ME's spreadsheet to the VA's submission form, after submitting the first 10 names, the VA came back and said the arrangement we had agreed upon was limited to the unclaimed cremated remains that had been in long term storage at various mortuaries. The ME's names were from recently deceased, and as such they wanted the ME to submit directly to them through normal channels – pick up the phone and call them in.

This is especially disheartening because so many of the ME's deceased are homeless, and vets are a disproportionately large component of the homeless population. I have notified Don Bell, the chief investigator for the Denver M.E., and he will see if there is some way we can get around this obstacle. I advised the chapter will be 100% in his corner, and to count on us to support him to get this job done. Don and his boss are both veterans, so I know he's sincere. More, hopefully next week, when we can meet and plan.

On the Olingers front, Lloyd Swint had to cancel today's meeting with him to take our efforts from Halloween forward. VA has said flatly that they don't want to see names without social security numbers, unless the deceased is so old that they may never have had one. That's certainly possible with some of the dates we uncovered at Eastlawn. We're rescheduled to meet Monday morning.

Bill Hilliard

________________________________________________________________________
Honors Burial Project 11/09/2015

Honors Committee Activities
An issue of national significance came to the attention of this chapter a few months ago – that substantial numbers of deceased veterans remains were warehoused in various crematories and mortuaries across the country. We contacted Lloyd Swint, General Manager of Olinger Hampden and Eastlawn Cemeteries and Mortuary, and he acknowledged the problem within his organization. Lloyd was eager to assist us in identifying any veterans in his custody. A cooperative effort was launched.

18 members of the Honors Burial Committee met at Olinger's Eastlawn Cemetery on October 31, 2015 and took a census of the unclaimed cremated remains located there. The all-day event found 868 remains, and recorded all available information about each individual to an Excel spreadsheet. 18 of the 868 had no paperwork and were listed as unknown.

The final spreadsheet was given to Lloyd Swint for further additions of identification information that might be found in other files and locations. This is to get as much detail about each person as possible, so that a submittal to VA National Cemeteries for qualification for interment at Fort Logan might be done. This research is in progress as of this writing.


Bill Hilliard